General News
[ 2017-11-20 ]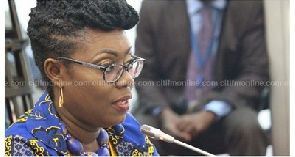 Akyem Asuom: Ursula Named Nkosuohemaa
The Minister of Communications Mrs Ursula
Owusu-Ekuful has accepted the offer to become the
development queen (Nkosuohemaa) of Akyem Asuom in
the Kwaebibirem District of the Eastern Region.


The offer was made to the Member of Parliament
(MP) for Ablekuma West by the chiefs and people of
Asuom when she attended the 75th anniversary
celebration of Nana Yaa Anamah II, the
longest-serving queenmother of Akyem Abuakwa
Traditional Area at Asuom at the weekend.

Mrs Owusu-Ekuful's educational and political
backgrounds, as well as achievements in life
influenced the chiefs and people of Asuom to make
her the Nkosuohemaa.

The Communications Minister, who represented
President Nana Addo Dankwa Akufo-Addo arrived at
the durbar grounds in the company of the Deputy
Minister of Trade, who is also the MP for Tema
West, Mr Carlos Kingsley Ahenkorah, who hails from
Asuom.

In her acceptance speech, the MP for Ablekuma West
assured the people of Asuom that she would team up
with other prominent natives of the constituency,
namely Mr Ahenkorah, the Minister of Roads and
Highways, Mr Kwasi Amoako-Attah; the District
Chief Executive (DCE) for Kade, Mr Antwi Boasiako;
MP for Kade, Mr Ohemeng-Tinyase, a media
practitioner, Oheneba Charles, and others to bring
development to the town.

President delighted

She said the President was delighted to note that
the longest-serving queenmother of Akyem Abuakwa
was from Asuom; and assured Nana Yaa Anamah that
her prayerful wish that a vocational training
centre be built and named after her would be
supported by the government.

In a congratulatory message read on behalf of
Osagyefo Amoatia Ofori Panin, Okyenhene, the
Adontenhene of Akyem Abuakwa Traditional Area,
Daasebre Boamah Darko, said: "Your courage,
politeness and intelligence that have
characterised your image always leave indelible
positive impact on the people you meet and
interact with.

The Okyenhemaa, Nana Adutwumwaa Dokua II, also
congratulated Nana Yaa Anamah II, saying, "Indeed,
any nation that does not honour its heroes and
heroines is not worth dying for. Nana Yaa Anamah
has devoted her whole life by serving the chiefs
and people of Asuom and Akyem Abuakwa.

Asuomhene, Osabarima Ofosuhene Apenteng II, led
the chiefs and people of Asuom to present a
citation and gifts to Nana Yaa Anamah.
Source - Daily Graphic


---