General News
[ 2017-11-10 ]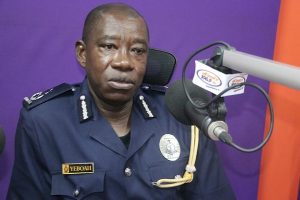 We will face criminals boot for boots with 'Father Xmas' Operation -Ken Yeboah
The Ashanti Regional Police Commander COP Ken
Yeboah has stated that they are lacing their boots
to face criminals boot for boots as the Christmas
approaches.

According to him, measures have been put in place
to fight robbery activities in the region before,
during and after Christmas festivities.

The programme dubbed 'Father Christmas Operation'
will ensure that criminals who terrrorise
residents are wiped out of the region.

'We are going to launch operation father
Christmas, hopefully Monday November 13, 2017
where security in the metropolis will be beefed
up, crime prone areas will be looked into. Its
this time that the criminals also operate, so we
are going to prevent them from chopping Christmas.
We are sending a signal to the criminals that we
will come after them if they are men, they should
be prepared to meet us. We are working hard to
ensure that there is free movement of people, and
goods everywhere, people should feel free,' he
said.

He asserted that high way robberies have also gone
down adding that their major challenge is
outskirts of Kumasi where roads are not
motorable.

'Our major challenge is the outskirt of Kumasi,
where construction or development is on going.
Some of the roads are unmotorable, numbering of
the streets is also a problem for us, the district
assemblies should do something about it,' he
said.

Speaking on Ultimate Breakfast Show with Lantam
Papanko he hinted that about 500 police officers
will be deployed during the final funeral rites of
the Asantehemaa Nana Afia Serwaa Kobi Ampem II
which begins on December 1-15, 2017.

COP Ken Yeboah added that they will call for
support from other security agencies in the other
regions for a sucessful funeral rites.

'We have prepared our operations order, we are
anticipating of deploying over 500 police men for
the Asantehemaa's final funeral rites, we are also
going to get support from the military and other
security agencies to assist us, we are putting
mechanisms in place to ensure that we have a
peaceful programme, where we don't have the
resources, we are going to ask Accra-police
headquarters to provide us men.

'If there is the need for us to import officers
from other regions we will do so, we expect the
public to cooperate with us. If we tell you not to
use this road, obey to avoid confrontations, we
are not going to take security issues for granted
at all,' he advised.

He called on the public to trust them as they
fight scrupulous people who engage in atrocities
calling on them to provide them (police) with
information.
Source - ultimatefmonline.com


---