General News
[ 2017-11-07 ]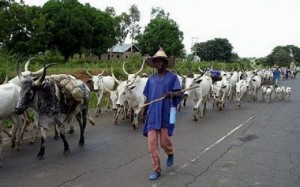 24,377 cattle, 225 owners registered in Kwahu
The Kwahu Cattle Ranching Control Committee has so
far registered 24,377 cattle owned by 225 diverse
Owners operating in the Kwahu Affram Plains Area.

The Committee has been set up by the Kwahu
Traditional Council to spearhead a ranching
programme to help find lasting solution to the
perennial deadly clashes between Fulani nomads and
farmers in the area.

The committee has identified four (4) folder banks
in totalling 2,269 acres at Wawase, Folie Folie,
Amankwaa and Memfankye where the cattle will be
moved to while requiring government support to
create six (6) additional folders banks in the
area.

Addressing the Eastern Regional Security Council
(REGSEC) at Abene Chief Palace, a member of the
Committee, Zeinu Baba said the cattle population
is envisaged to increase the number as many are
yet to register while those who registered under
declared for fear of being taxed but with broaden
awareness of the motive, most cattle owners are
willing to register.

The Kwahumanhene, Daasebre Akuamoah Boateng II,
called on government to provide funding support to
the traditional council to create more folder
banks to relocate all cattle in the area to the
folder banks to end the over decade deadly clashes
between Fulani nomads and farmers.

The Eastern Regional Minister, Eric Kwakye Darfuor
said government has commissioned National Ranching
Project Committee membership drawn from
stakeholder groups including the Ministries of
Food and Agriculture, Interior, Foreign Affairs
and Regional Integration, Inner City and Zongo
Development and National Security and
professionals in the cattle industry and the Ghana
National Association of Cattle Farmers to come out
with a national Policy to remedy the menace.

REGSEC has meanwhile asked inhabitants of the
affected communities to remain calm as security is
intensified in the communities calling those who
have deserted their homes to return.

The renewed clashes in the area led to the death
of 10 persons at least four have suffered gunshots
wounds and 163 displaced in 12 communities,
schools and health facilities closed down.

No arrest have been made now but 85 Police
personnel have since been dispatched to the
affected communities to restore law and order.

REGSEC has asked teachers and nurses who have
abandoned post to return.
Source - ultimatefmonline.com


---