General News
[ 2017-05-26 ]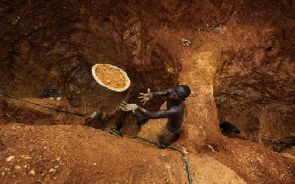 The two have been remanded after they were put before the Koforidua Circuit court 'B'
Two defiant galamseyers busted
The Anyinam District Police Command in the Eastern
region has arrested two illegal miners for
defiantly engaging in illegal mining, despite a
ban on the illicit activity.

An excavator which was being used by the suspects
for their operation has been confiscated by the
police.

The two have been remanded after they were put
before the Koforidua Circuit court 'B'.

The Anyinam District Police Commander, DSP Eric
Asiedu told Starr news the arrest is in line with
efforts to eradicate illegal mining in the
country.

He said the strategy devised by the Anyinam Police
Command to clamp down illegal mining is on
course.

" We arrested two illegal miners, we have also
impounded an excavator. We trying to transport it
from the site to the Police station. The strategy
to clamp down on illegal miners particularly those
working on the birim river is still on course,"
the Commander said.
Source - Starrfmonline.com


---