General News
[ 2017-05-24 ]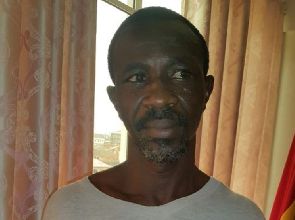 The police in Kumasi, the Ashanti Regional capital, have grabbed Issah Mohammed
Man grabbed over Kumasi murder
The police in Kumasi, the Ashanti Regional
capital, have grabbed Issah Mohammed alias Issah
Koodey, and also chasing his son, Sayibor, over
the murder of one Richard Apuri.

The father, the son and other people allegedly
inflicted machete wounds on Apuri at a road
intersection between Kaase and Ahodwo on May 1,
2017.

Apuri, a resident of Kaase, reportedly bled
profusely after the alleged attack and he was said
to have given up the ghost when he was rushed to
the Komfo Anokye Teaching Hospital for treatment.

Issah Koodey and his son, after allegedly
committing the heinous crime, went into hiding but
luck eluded Koodey as he was eventually nabbed on
May 20 at Daaban.

Police investigations have linked the murder to a
fierce scuffle that ensued between some youth of
Kaase and Apraman at the Fire City Pub, Adiebeba,
recently.

The Ashanti Regional Police Commander, DCOP Ken
Yeboah, addressing the media, said Sayibor, who is
now wanted, was reportedly injured during the said
fracas.

The assault on Sayibor reportedly incensed his
father and so he purportedly threatened to
eliminate any youth from Kaase that he would
meet.

The police chief said two hours after the clash,
Issah Koodey, his son and other young men hired a
taxi to comb the area in search of potential
victims.

In the course of their search, they allegedly
spotted Apuri, believed to be a resident of Kaase,
and without provocation, they attacked him with
machete.
Source - dailyguideafrica.com


---