General News
[ 2017-05-24 ]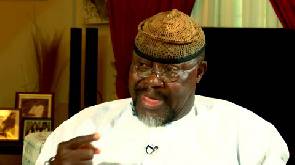 Dr Nyaho Nyaho-Tamakloe
End cycle of vindictive politics - Nyaho to Akufo-Addo
President Nana Akufo-Addo is in a good position to
end the cycle of vindictive politics in Ghana, a
founder-member of the governing New Patriotic
Party (NPP), Dr Nyaho Nyaho-Tamakloe has said.

According to him, political polarisation "is a
bane to development and bodes no good for the
general well-being and progress of the country."

The former envoy to Serbia and Montenegro said
this while commenting on agitations against some
appointed MMDCEs under the Akufo-Addo-led
administration.

Some of the appointments have resulted in
violence, as well as the rejection of nominees.

But in Dr Nyaho-Tamakloe's view, "President
Akufo-Addo can fight this canker and leave a
strong legacy."

"Since the birth of modern Ghana, political
polarisation often coupled with ethnic
polarisation has been a canker," he told the Daily
Graphic, adding that "the antagonism we saw
between the Nkrumaists and Danquah-Busia-Domboists
at the birth of our political system has evolved
into antagonisms within political parties."

He observed that "even lives have been lost under
traumatic circumstances."

According to Dr Nyaho-Tamakloe, "In the past, it
was Action Troopers against Action Groupers. Today
it is often between rival party militias or party
militias against party nominees. Resolving these
problems consume precious time that could be
channeled to national development."

He noted that "military adventurists have often
used the excuse of political polarisation to
destabilise democratically elected governments but
that was often a smokescreen to avoid wider
accountability."

Dr Nyaho-Tamakloe recounted that Nana Akufo-Addo
successfully played a leadership role in
multi-partisan civil society movements, including
the Movement for Freedom and Justice in the 70s
and the Alliance for Change in the 90s, of which
he was a part and, therefore, is better placed to
stop politics of factionalism.

"Everything is seen through a partisan lens; even
national development. We need to be more
accommodating and less parochial if we are to
compete against the Malaysias and Indonesians," he
noted.

Source - classfmonline.com


---