General News
[ 2017-05-24 ]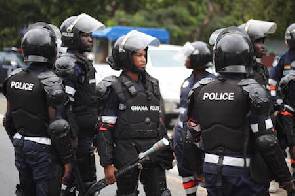 The public must be extra careful especially during transactions at financial institutions.
Police issues crime alert
The Accra Regional Police Command has admonished
the general public to be extra cautious especially
during transactions at various financial
institutions as robberies by motor-riding
assailants increase.

The police service said it was "concerned about
recent activities of criminals who use motorbikes
to trail and rob unsuspecting victims of their
valuables at gunpoint and wish to draw the
attention of the general public to the trend".

The police said these criminals, who usually
operate in pairs on motorbikes, closely monitor
their targets, especially those coming from
financial facilities, from a distance, attack, and
rob them of their valuables amidst firing.

"The police are, therefore, calling on the general
public to be extra vigilant of activities of motor
riders who trail, loiter, or park in and around
banking areas," the police added.

The law enforcement agency noted that patrols and
other crime-curbing strategies will be intensified
but members of the public must be vigilant as well
and report any suspicious activities to police on
hotlines 0302773695 or 0302773906 or 191 or crime
fighters' hotline MTN and Vodafone short code
18555.
Source - classfmonline.com


---