General News
[ 2017-05-17 ]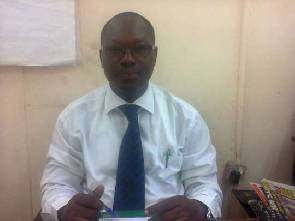 Public Relations Officer (PRO), for the Ghana Education Service (GES), Rev. Jonathan Bettey
Pass before you enjoy Free SHS - GES
The Public Relations Officer (PRO), for the Ghana
Education Service (GES), Rev. Jonathan Bettey has
indicated that, one of the things that the
management is happy about is the implementation of
the Free Senior High School policy.

Speaking to Kwame Tutu on Rainbow Radio 87.5Fm,
the PRO said, he believes strongly that has been
the major education policy for the country. Rev.
Bettey revealed that, GES is always happy whenever
the Education Minister hammer on the need for
individuals who want to benefit from the Free
Senior High School to pass their exams.

He was reacting to comments by Dr. Matthew Opoku
Prempeh that students who fail at the basic
education level, will not benefit from the policy
as government readies to roll it out.

"Since people want to benefit, they will employ
their children to study very hard to pass the
exams, because there is still a pass there. It is
not how the free will be to enjoy, but you have to
pass an exam and indeed to study, so let's get
that one done first.

"If you fail an exam how can you benefit from
something free; I am surprised. Even now it's not
everyone that gets the chance to go in even with
what they pay because if you fail, you fail. How
can somebody who has failed progress.

Even when COCOBOD is giving scholarships, don't
you have to pass to benefit, for those whose
children don't pass, do they get scholarships?"
the Minister said. His comments has generated
mixed reactions both on social media and in the
public.

But the PRO emphasied that, only students who pass
their BECE will benefit from the flagship
education policy promised by the Nana Addo led
administration. He said, the qualification depends
on the West African Examination (WAEC) Standard.

''The qualification depends on WAEC standard
that-If you have written the BECE exam and you
pass according to their standard, you should be
admitted in a school of your choice…and when you
get there, you should benefit from the policy,''
he told the host. ''If you fail, how will they
send you to a secondary school,'' he quizzed.

When asked if his explanation and that of the
Minister was not generating controversy, he said,
the reportage by some media was turned upside
down. He urged the media to change the reportage
to save the image of the Minister. When asked if
students who fails the BECE but resists and pass
may benefit, he stressed that, students who will
pass by September will benefit.

''If you don't pass, who will send you to
secondary school,'' he quizzed further. ''The
policy is clear and it is meant for Ghanaian
children in public schools and government
institutions in the country and come September,
those who will qualify will benefit from the
policy,'' he concluded.
Source - rainbowradionline.com


---