General News
[ 2017-04-20 ]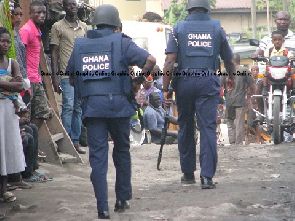 The arrest was a collaboration between a community member and the police
Two persons arrested with 500 rounds of ammunition
Two persons have been arrested been arrested by
the police at Agbogloshie for possessing 500 round
of ammunition. Their arrest was based on an
intelligence gathered by the police.

The arrest was a collaboration between a community
member and the police. Public Relations Officer
(PRO) for the Greater Accra Regional Police
Command, ASP Effia Tenge addressing the press
today [Wednesday] said, he two suspects, Imoro
Abdul Wahab, 25, a scrap dealer, and Kwaku
Amankwa, 58, who claims to be a registered arms
dealer, were involved in a transaction which saw
the scrap dealer purchase the ammunition valued at
GHc 1,000.

Abdul Wahab was arrested first, and subsequently
led the police to the second suspect at a place
called Arena in Accra.

"The police retrieved 250 rounds of BB cartridges
and 250 rounds of AA cartridges summing up to the
500 pieces of cartridges," the police PRO said.

"Both suspects are being detained for
investigations, and shall soon be put before the
court when our investigations and the intent has
been established."

The arrest follows renewed clashes in the area
recently which led to the death of two persons.

Source - rainbowradioonline.com


---