General News
[ 2017-03-17 ]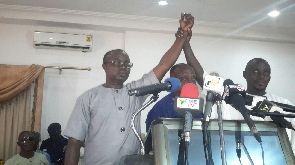 Osei Assibey Antwi has been confirmed as Mayor for Kumasi.
Kumasi mayor Osei Assibey Antwi gets 99 per cent endorsement
Assembly members of the Kumasi Metropolitan
Assembly (KMA) on Friday morning gave Mr Osei
Assibey Antwi a massive endorsement as mayor of
Kumasi.

Graphic Online's Kumasi correspondent, Daniel Kenu
who covered the elections said Mr Assibey Antwi
won by 132 votes out of the 133 valid votes cast.
There was one rejected ballot.

The total membership of the assembly is 146 and
133 were present for the endorsement.

There were earlier indications the election was
going to be smooth for the nominee as some
assembly members in separate media interviews said
they were happy with his nomination and were
hoping to give him 100 per cent endorsement.

Mr Assibey Antwi, 52 is a native of Kuwawu Wonoo
in the Ashanti region and served as deputy Ashanti
regional minister under President Kufuor's
administration from 2006 to 2009.

He holds MBA in Marketing and is a certified
Member of the Institute of Commercial Management.

He worked as an Assistant Inspector of Taxes
responsible for Financial and Administrative at
the then Internal Revenue Service (IRS) now part
of the Ghana Revenue Authority.

He has knowledge in governance and leadership and
understands the workings of Local Government
Administration.

He served as Ashanti Regional Vice Chairman of the
NPP from 2000 to 2008 and attempted to go to
Parliament in 2008 on the ticket of the Manhyia
constituency but was unsuccessful at the
parliamentary primary in 2007.

After learning under Dr Kwame Addo Kufuor, the
then MP for Manhyia and assuming that the seat was
to be handed over to him, Dr Mathew Opoku Prempeh
(NAPO), the current Education Minister entered the
race and won the primary to take over from, Dr
Addo Kufuor.
Source - Graphic.com.gh


---