General News
[ 2017-02-15 ]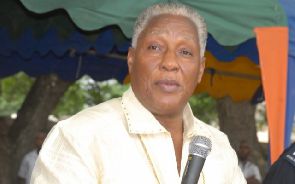 E.T Mensah
NDC propagandists fighting against my Council of State bid – E.T Mensah
"An action by the Ga-Dangme Concerned Youth Group
(GDCYG) to stand against my bid for a seat at the
Council of State is a move by some faceless
individuals who want to spoil the beauty of our
democracy," the National Democratic Congress(NDC)
former Member of Parliament for Ningo Prampram,
E.T Mensah has said.

The veteran politician believes the Ga-Dangme
youth fighting his election onto the Council of
state position do not even understand the nuances
of the democratic dispensation, thus it won't be
embarking on such a move to block his ambition.

"I've done a wider-consultation on this and I have
a massive endorsement on it, so there is no place
for Ga-Dangme youth or whatever. They should give
us a break!" Mr. E.T Mensah told Anopa Kasapa
Morning Show host Fiifi Banson on Kasapa 102.5 FM
Monday.

His inclusion in the Council of State election has
come as a surprise to a section of the public as
E.T Mensah is known to be a dyed in the wool NDC
member.

Others believe E.T Mensah who has been in
Parliament since 1997 until January 7, 2017, is
doing this to spite the NDC after he was defeated
by his one time protege, Sam George Nettey in a
bitter contest during the party's Parliamentary
primaries.

A group calling itself the Ga-Dangme Concerned
Youth Group (GDCYG) has publicly kicked against
MR. ET Mensah's bid for a seat at the Council of
State.

"If the president of the republic, in the spirit
of all-inclusive government, wants to appoint E.
T. Mensah for a different portfolio, so be it. But
not in the capacity as a member of the Council of
State which we are against. He will be a threat to
him," a press release signed by the group's
president, Nii Ayaafio Tetteh I said.

In a reaction to the group's contention on his
ambition, Mr. E.T Mensah said " this is purely NDC
propaganda, and I know some of the serial callers
behind this thing", but said he has bright chances
of being elected onto the Council.

For him, it was a laudable idea for the President
decision to deepen the country's democracy, which
he believes will ostensibly kill the the winner
takes all syndrome being a hindrance to the
country's democracy.

The elections for the Council of State for
regional representation are scheduled to be held
on Thursday, February 16.

A notice of poll published by the Electoral
Commission, confirms Mr. E.T Mensah's
participation in the election. The former Sports
Minister's picture appears fourth on the right
column.
Source - kasapaonline.com


---