General News
[ 2017-02-15 ]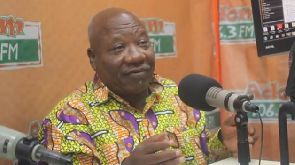 Allotey Jacobs, Central Regional Chairman of the NDC
Agyarko didn't bribe anybody, they're only spoiling his name - Allotey Jacobs
Central Regional Chairman of the National
Democratic Congress (NDC), Bernard Allotey Jacobs
has described as a 'fruitless venture' the
Parliamentary probe into bribery allegations
leveled against the Energy Minister, Boakye
Agyarko by Bawku Central MP, Mahama Ayariga.

A Parliamentary Ad Hoc Committee set up by the
Speaker of Parliament and chaired by Joe Ghartey,
MP for Essikado Ketan and Minister for Railways
Development would commence investigations into the
allegations.

Other members of the committee are Ben Abdallah
Banda, MP for Offinso South; Magnus Kofi Amoatey,
MP for Yilo Krobo; Ama Pomaa Boateng, MP for
Juaben and Benson Tongo Baba MP for Talensi.

The committee has been tasked to investigate
Mahama Ayariga's allegation that Boakye Agyarko –
who was being vetted by the Appointments Committee
– through some people, paid GH¢3,000 to the
minority National Democratic Congress (NDC) MPs on
the committee to influence his (Agyarko's)
approval as Minister of Energy.

They are specifically looking into the allegation
against the Chairman of the Appointments
Committee, Joe Osei-Owusu, who Mahama Ayariga had
mentioned as being the conduit for the bribing and
Minority Chief Whip, Alhaji Muntaka Mohammed
Mubarak, who Mahama Ayariga claimed had brought
the money.

The Joe Ghartey committee will call upon Mahama
Ayariga, Joseph Osei-Owusu, who is also the 1st
Deputy Speaker.

Others to appear are Mohammed Mubarak-Muntaka, and
Boakye Kyeremateng Agyarko.

The probe into the allegations, the NDC Regional
Chairman has claimed would have no meaningful
ending.

"The probe won't end in anything, there is only
going to be shifting of the goalpost…," he said on
Peace FM's Krokrokoo on Wednesday.

Allotey Jacobs further emphasized that he was
convinced the Energy Minister did not give bribe
to any member of the Appointments Committee
arguing further that claims of bribery allegation
are attempts to tarnish the reputation of Boakye
Agyarko.

"I still stand by my position that Boakye Agyarko
did not give bribe to anybody, they are only
spoiling somebody's name…the man must be allowed
the chance to go and work..," he said.

Background

The investigation was launched after Mahama
Ayariga and two minority MPs – Samuel Okudzeto
Ablakwa and Alhassane Suhuyini – had accused
Boakye Agarko of bribing them.

Ayariga, the MP for Bawku Central, caused public
outrage when he claimed on pro-NDC network – Radio
Gold – recently that the Minority Chief Whip who
is the NDC MP for Asawase, shared envelopes
containing GH¢3,000 for minority members serving
on the Appointments Committee to approve Mr.
Agyarko.

The Minority Chief Whip has already denied ever
sharing envelopes containing GH¢3,000 each to
approve the nomination of Mr. Agyarko to become
Minister of Energy, but this appears to have
incensed his colleagues on the minority side of
parliament.

Mahama Ayariga claimed Alhaji Muntaka had told
them that it was the Committee's Chairman Joe
Osei-Owusu, who gave the money to them and said
they later got to know that it was coming from Mr.
Agyarko.

In the ensuing debate, Nii Lantey Vanderpuije, a
minority member of the Appointments Committee, was
also said to have said on Montie Fm – a sister
station of Radio Gold – that he didn't know
anything about the alleged bribe, even though he
was expected to have benefitted from it.

Source - peacefmonline.com


---