General News
[ 2012-09-18 ]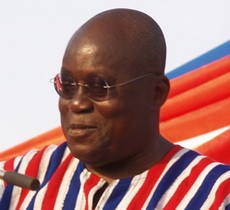 Akufo-Addo takes "restore hope" tour to Eastern region
The 2012 presidential candidate of the New
Patriotic Party (NPP), Nana Akufo-Addo, on Tuesday
began the second phase of his hope tour of the
Eastern Region.

The NPP leader is expected to tour constituencies
such as Akyem Swedru, Akyem Oda, Ofoasi- Ayirebi,
Okere, Upper West Akim, Lower West Akim and
Akwatia.

Nana Addo is campaigning on an economic
transformation agenda that will change the
Ghanaian economy from a raw material based one to
an industrialised one to help create more
sustainable jobs for the Ghanaian people.

Nana Akufo-Addo has also said he will institute a
free senior high school education policy to allow
all children have access to free quality education
up to senior high school level.

Source - NPP Communications Directorate


---