General News
[ 2012-09-13 ]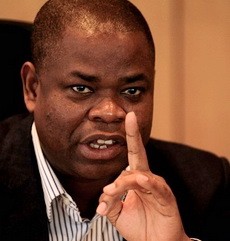 Justin Kone Katinam
Osu Court again denies ex-Ivorian minister bail
The Ivorian ex-Minister for budget will stay in
the custody of the Bureau of the National
Investigations a while longer after the Osu
Magistrate Court for the second time in less than
two weeks refused him bail.

Justin Kone Katinam is wanted by Ivorian
authorities for economic crimes after he was
accused of leading armed police men to invade
banks and forcibly take away monies during the
violence and stalemate triggered by an election
dispute in the West African country.

He ran to Ghana when his boss, then Ivorian
strongman, Laurent Gbagbo was captured by French
and forces loyal to current President Alassane
Ouattara. He applied for a refugee status but the
application was yet to be approved when Ghanaian
security authorities arrested him.

The Ivorian government is asking their Ghanaian
counterparts to extradite Kone Katinam to the
country to stand trial.

He was arrested few weeks ago and has since been
in BNI custody.

His lawyers have tried to secure bail for him, but
have so far been unsuccessful.

Joy News' Sammy Darko who was at the Magistrate's
Court, Thursday reported State Prosecutors as
saying they were now translating documents from
French into English and prayed the court to hold
the suspect a while longer.

But the lawyer for the suspect, Patrick
Sorgbordzor told the court the prosecution was
unduly delaying the extradition hearing which was
an infringement on the rights of his client.

He told the judge his client was ready to subject
himself to the stringent bail conditions, even if
it means reporting to the police every four
hours.

The judge however upheld request of the
prosecution, describing their explanation as
reasonable.

The case has now been adjourned to September 26.
Source - MyjoyOnline


---