General News
[ 2012-08-01 ]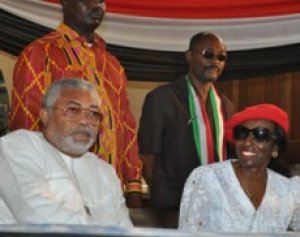 Rawlingses deny being sacked by Naadu Mills
Our attention has been drawn to a publication in
the July 31, 2012 edition of The Enquirer which
reports that former President Rawlings was turned
away by Mrs. Ernestina Naadu Mills when he went to
console the former First Lady on Monday July 30,
2012.

We wish to place on record that President Rawlings
is yet to visit the home of the former First Lady.
What the newspaper published was a concoction of
lies.

There is a calculated attempt by certain
individuals with the support of sections of the
media, to pitch the former President against the
family of the late President Mills with the
intention to create public disaffection against
President Rawlings.

Wish to caution that as Ghanaians mourn, people
with devious agenda should desist from such
pettiness and allow Ghanaians to mourn the
departed.







Source - MyjoyOnline


---