General News
[ 2012-07-26 ]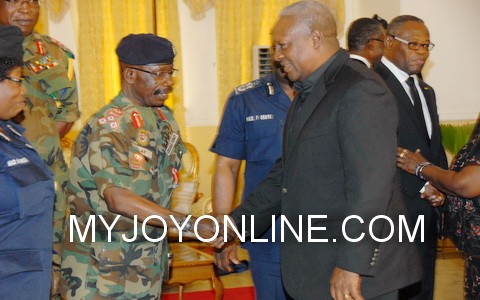 John Mahama in a hand shake with one of the service commanders
Service Commanders renew allegiance to Mahama
The service commanders led by the Chief of Defence
Staff Lieutenant –General Peter Augustine Blay
have pledged full allegiance to their new
Commander-in-Chief and President of the country,
John Mahama at a meeting in the Castle.

They have also sworn to protect and defend the
constitution of Ghana even at the peril of their
lives.

Lt-Gen Blay who spoke on behalf of the forces
extended their condolences to the family of the
late President John Mills, who died Tuesday after
a short illness.

He swore that the Military High Command as well as
the Police Chiefs led by the Inspector General of
Police will be loyal to him and to the
Constitution of Ghana.

He said they will be working together to ensure
internal peace in the country at all times.

The president John Mahama was grateful for the
allegiance and assured of government's continued
logistical support to the security services in
order for them to carry out their constitutional
mandate.

He said the Ghana Armed Forces is renowned for its
level of professionalism both internally and
externally and will count on their continued
support.

He said having been the chairman of the Police
Council, he has struck a good working relationship
with the police hierarchy and hopes to build on
that relationship.

Joy News' Presidential Correspondent Seth Kwame
Boateng said the president on his second day in
office will be meeting the Speaker of Parliament
Joyce Banford-Addo and the judges of the Supreme
Court.


Source - MyjoyOnline


---