General News
[ 2012-07-19 ]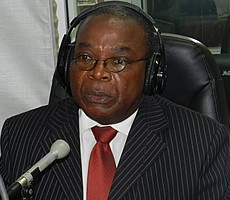 Nana Ato Dadzie vows to have Asiamah recused from PAC hearing
The former Attorney General Betty Mould Iddrisu
and her counsel are determined to have Member of
Parliament for Atwima Mponua Isaac, Asiamah
recused from the Public Accounts Committee probing
judgment debt payment to Construction Pioneer
(CP).

Betty Mould Iddrisu made a dramatic return to the
PAC demanding the recusition of the Atwima Mponua
MP who she accused of pre-judging the matter.

According to her, Isaac Asiamah had described a
document she tendered before the committee as
tainted with fraud insisting such a comment was
unacceptable and the MP must be made to sit out or
she will not answer questions posed by the
committee members.

Isaac Asiamah however dismissed the allegations
saying his words have been misconstrued.

Waving the Parliamentary Hansard, from which the
alleged comments were made, the MP said his exact
words were flawed and not fraud as Betty Mould
would have the world believe.

The Chairman of the Committee Kan Dapaah waded in
the banter, saying he has no power to ask any
member of the committee to step aside.

He said if Betty Mould feels so hard done by the
alleged "fraud" comments she must petition the
Speaker of Parliament or proceed to court.

The Former Attorney General however proceeded with
her answers to the committee and justified the
payment of the €94 million to CP.

The hearing was adjourned to Friday but Counsel
for Betty Mould Iddrisu told Joy News his client
was given a raw deal.

Nana Ato Dadzie said they were expecting Isaac
Asiamah to do the "honourable" thing by stepping
aside and having failed to do that, the Chairman
ought to have referred the matter to the speaker.

He said his client still reserves the right not to
answer any question posed the MP in the next
sitting but was quick to add that will petition
the Speaker to have Isaac Asiamah recused.







Source - MyjoyOnline


---