General News
[ 2012-07-19 ]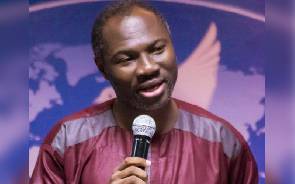 Two brothers to die by hanging
The Koforidua High Court has sentenced two
brothers, Ayitey Tetteh and Ayitey Angmor, to
death by hanging.

The two, who pleaded not guilty to charges of
conspiracy and murder of their relative, Fiagbor
Larweh, were found guilty by a seven-member jury.

Larweh's bullet-ridden body was found on a farm at
Sappor, a farming community near Akosombo, on
October 5, 2007.

Three others, Awosayo Angbor, Felix Teye and
Stephen Odonkor, who were initially apprehended
with the convicts in connection with Larweh's
death, were acquitted and discharged for lack of
evidence.

Before sentencing the convicts, the presiding
judge, Mr Justice Kossi Efo Kaglo, summed up the
proceedings of the trial, which started in 2010,
during which a number of witnesses were called.

He then took the jurors, made up of three women
and four men, through the rudiments of trial by
jury.

He told them that as laymen, they were to be
judges of facts, not of the law, and that they
should not base their findings on suggestions,
speculations or ethnicity but facts before the
court.

Justice Kaglo further advised the jurors to prove
beyond all reasonable doubt that the culprits were
those who had killed Larweh and that the slightest
doubt in that respect must go in favour of the
convicts, since the penalty was death.

He then requested the jurors to retire to a room
within the court building to determine the fate of
the convicts and, after about 30 minutes, they
returned with a unanimous decision of guilty for
the convicts.

Ayitey Tetteh and Ayitey Angmor, who sat
motionless during the proceedings, were heard
saying quietly in Krobo that they had no hand in
the death of their relative before they were taken
away by prison officers on their journey of no
return.

Earlier, a State Attorney, Ms Akpene Morteh, had
told the court that Larweh, who was living outside
the Krobo area, visited one of his relatives,
Francis Fiagbor, at Nuaso, near Odumase-Krobo, and
that on October 5, 2007 he left Nuaso to visit the
convicts at Sappor.

She said when Larweh did not return, enquiries
were made from the convicts, who said although
Larweh had been with them, he boarded a vehicle
back to Nuaso.

Ms Morteh further told the court that the convicts
did not assist in the search for Larweh, whose
bullet-ridden body was found on a farm at Sappor,
after which a report was made to the police, who
arrested the two.

She said evidence in respect of the murder
incriminated the two.









Source - Daily Graphic


---