General News
[ 2012-07-09 ]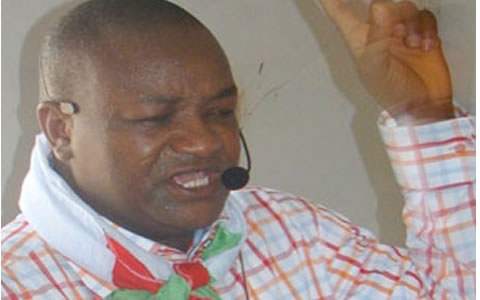 Dr. Abu Sakara, flagbearer of the CPP
Join me to build Ghana on a path of selflessness -Sakara
Dr Abu Sakara, Presidential Candidate of the
Convention People's Party (CPP) has called on the
People of Axim and Ghana at large to join him
build the Country on a path of selflessness and
sacrifice.

He was talking to the Chief of Brawire, Axim Nana
Adusei IIand his people on Saturday 7th July when
he visited the Western Region. He was accompanying
the Party's Parliamentary Candidate for
Evalue-Gwira Constituency K. Ackah-Quarm to
empathize with his fellow constituents following
the recent premix fuel tanker explosion that
occurred at Brawire, Axim in the Nzema East
District of the Western Region. The incident had
claimed seven innocent lives and injured many.

The CPP Presidential Candidate told the gathering
that the CPP feels what has happened to the people
of the area as this was the home of the Party and
its Founder.

The Chiefs and Elders of the Town prayed for the
flagbearer and wish the CPP well in the December
Election with many of the Elders pledging to
support the Party in the coming elections.

Dr Sakara later addressed a mini rally of party
members and members of the community where he
indicated that it is time people show commitment
to return the CPP to its proper place in Ghana. He
told them that the CPP's selfless dedication and
commitment to nation building has lasted the test
of time and what stands the nation in good stead.

He charged members of the Party to start the door
–to-door campaign vigorously now to ensure that
all and sundry become well informed about the
vision and policies of the CPP in order to elect
the CPP candidate to parliament and the Presidency
to CPP.

Dr Sakara and his team together with hundreds of
people within the Community visited the accident
scene where he stated that while preventing a
natural disaster is very difficult, authorities
and organization's must put in place precautionary
and safety conscious measures with an objective of
preventing a disaster in the first place.

He was accompanied by Rodaline Imoru-Ayarna – 2nd
National Vice Chair; Hon Kojo Armah; Nii Armah
Akomfrah – Director of Communication; Lawyer Supi
Bensti-Enchill; Gordon Etroo – Western Regeional
Chair, K. Tumi – Regional Organiser, Chris Nkrumah
– Regional Youth Organiser; K. Ackah-Quarm – CPP
Parliamentary candidate for Evalue-Gwira ; Henry
Solor – CPP Parliamentary Candidate for Sekondi
and a host of Constituency executives and members.
Source - RadioXYZonline.


---
I hope it is not a delibrate attemp to publish story of CPP Presidential Candidate Dr Abu Sakara with PNC Presidential candidate's picture. you should cross check the work you do before posting, please. you need to withdraw the picture and apologize to the CPP flagbearer.
Martin Adu, Ghana 2012-07-09 (15:42:17)