General News
[ 2012-07-03 ]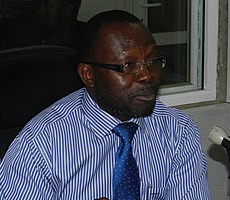 Dr Ayine, legal practitioner
Gov't removes foreign retail traders despite ECOWAS intervention
Government is going ahead with its operation to
clampdown on foreigners it says are illegally
participating in the retail trade.

The taskforce in charge of the operation is
currently at the Makola Market here in Accra, one
of the areas targeted.

The Inter Agency Taskforce made up of officials
from the Registrar Generals Department, Ghana
Investment Promotion Center, the Ghana Revenue
Authority, Police, Immigration Service, Trade and
Foreign Affairs Ministries had earlier met to
strategize on how to carry out the exercise.

The Ghana Investment promotion law bars foreign
traders from retailing unless they invest an
initial capital of 300 thousand dollars.

Joy News' Francis Abban, who is with the task
force, reported the exercise was peaceful.

The exercise is taking place in spite of efforts
by the ECOWAS Parliament delegation which is
currently in Ghana to intervene on behalf of
ECOWAS nationals.

Nigerian businesses in Ghana are strongly pushing
for a review of the law and Albert Bayor,
President of the Nigerian Community in Ghana hopes
the visiting ECOWAS delegation can make an
impact.

Meanwhile legal practitioner, Dominic Ayene is
cautioning government to be cautious in handling
the situation.

He said Ghana had signed treaties that barred from
the very action the government was taking –
seeking discriminate between citizens and the
people of other countries.

The Vice President of IMANI Ghana, Kofi Bentil
holds a similar view.

He said what Ghana needed was a conscious effort
at promoting Ghanaian businesses not
protectionism.

Mr Bentil believes the law allowing Ghana to take
the action was bad but the implementation was even
worse, fearing other countries may retaliate and
Ghanaians living in those countries will be the
losers.







Source - Joy News


---