General News
[ 2012-07-03 ]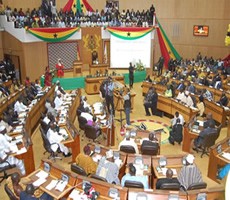 Speaker spikes "unserious MPs" as House adjourns abruptly
The First Deputy Speaker of Parliament, Hon. Doe
Adjaho, was forced to adjourn sitting on Tuesday
because the House was empty.

A visibly angry Hon Adjaho before adjourning the
House expressed his dissatisfaction and counseled
flippant colleagues to take their work seriously
because the perpetual absenteeism of MPs is
retarding progress.

He had to allot about 10 minutes for the House to
form a quorum and after it elapsed the numbers
were still few to allow proceedings to commence
hence an adjournment.

Hon. Adjaho, who is also a Member of Parliament
for Ave-Avenor did not mince words before
adjourning.

"More importantly the 10 minutes have elapsed and
the rules are very clear," he pointed out before
leaving the Chamber. "Honourable Members who are
fighting day in and out to come to Parliament
should attain upon the House to do their business.


"I want to make that statement very clear. People
who are struggling everyday to come to Parliament
to become MPs to represent their constituents and
the people of this country must know that they owe
it to their constituents to attain upon this House
to transact business," Hon Adjaho emphasised.


Source - Citifmonline


---