General News
[ 2012-06-29 ]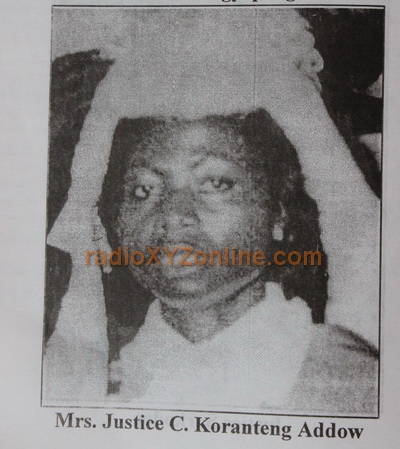 The late Mrs. Justice Cecilia Koranteng- Addow was killed on that fateful day.
PHOTOS: 30th anniversary of the murder of 3 High Court Judges & a military offic
Tommorow, Saturday 30th June, 2012 marks the 30th
anniversary of the brutal murder of the three High
Court judges and one military officer who were
killed in 1982.

June 30th 1982 continues to remain a dark spot in
the nation's political history and a nightmare for
all judges in the country, after the three High
Court Judges namely, Mr. Justice Fred Poku
Sarkodie, Mrs. Justice Cecilia Koranteng- Addow
and Mr. Justice Kwadwo Agyei Agyapong as well as a
retired army officer, Major Sam Acquah, were
callously murdered under strange circumstances at
the Bundase Military Range in the Accra Plains,
after being abducted on the night by some
unidentified assailants. Their bodies were found
on 3 July 1982.

[WARNING: The Pictures can be uncomfortable but
CLICK HERE TO VIEW THEM.]

All four had adjudicated on cases in which they
had ordered the release of persons who had been
sentenced to long terms of imprisonment, during
the rule of the Armed Forces Revolutionary Council
(AFRC).

Investigations were conducted into the matter,
after which some active and retired army officers
were prosecuted, but there is still the belief
that the real people who gave the order for these
judges to be killed have been left of the hook.

A Special Investigative Board chaired by Samuel
Azu Crabbe, recommended that 10 persons be
prosecuted. Two of them, Joachim Amartey Kwei and
Alolga Akata-Pore were members of the PNDC
administration.

Today, RadioXYZonline.com publishes the faces of
the martyrs who were slaughtered on that day with
the hope that such a dehumansing occurrence will
never happen after the progress the country has
made in the fourth Republic.

The pictures are kind courtesy of the book by
George Agyekum
Source - RadioXYZonline.


---