General News
[ 2012-06-14 ]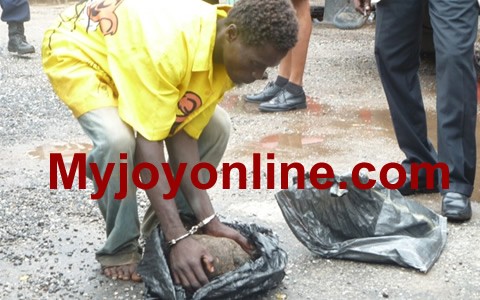 Court remands Ekumfi chief killer
A Cape Coast Magistrate Court has remanded into
prison custody, the 37-year-old Kweku Mensah who
is alleged to have beheaded Nana Eguase
50-year-old Ebusuapanyin of the Ekumfi Narkwa
community, in the Mfantseman municipality of the
Central region.

The 50-year-old Ebusuapanyin's horrifying death
led to communal violence in the area, as the
Fantes clashed with Ewe settlers, during which
three people from the community were killed and
several houses set ablaze. His sister Aba Koba,
who concealed the act, was also remanded into
prison custody.

Joy FM's Central Regional correspondent Richard
Kojo Nyarko reported that the Court which was
presided by Mr. Kweku Ohemeng Mensah adjourned the
case to July 16 based on an appeal by the
prosecution.

The prosecution had prayed the court remanded the
two persons, Kweku Mensah the culprit and his
sister 30-year Aba Koba who had concealed the act.
The court upheld the plea of the prosecution and
remanded the accused persons accordingly.

Kweku Mensah and his sister Aba Koba have been
sent to the Ankaful Prison and Sekondi Prison
respectively.






Source - Joy News


---