General News
[ 2012-06-14 ]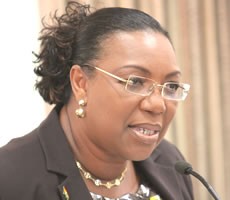 Show Betty Mould some respect even if she is the 'devil'- Lawyer
Nana Ato Dadzie, lawyer for former Attorney
General and Minister for Justice, Betty Mould
Iddrissu has expressed concern about what he says
are the incessant attacks on his client.

Lawyer Ato Dazie said the persistent attacks on
Betty Mould's persona could have dire consequences
on her hard earned reputation both home and
abroad.

"No matter what it is, we should show minimum
respect to her [Betty] even if we think she is the
devil," he decried.

Nana Ato Dazie was reacting to a publication by a
Leicestershire-based newspaper, The Leicester
Recorder Tuesday, purporting that Betty Mould
Iddrisu had purchased properties in expensive
suburbs of the United Kingdom.

The newspaper said the former AG, apart from the
houses at 252 High Road, Loughton, Essex, IG10
1RB, has also deposited millions of cedis in a
Barclays bank account in the UK.

But the story which was published on Ghanaweb.com
has since been removed following the public uproar
about the 'controversial acquisition' of the said
properties.

However, Nana Ato Dadzie on Asempa FM's Ekosii Sen
programme Wednesday, said the story is a
fabrication intended to "ridicule, disgrace and
defame" madam Betty Mould Iddrissu.

He explained that his client has not bought any
house in the UK or own a Barclays bank account as
was reported in a UK-based newspaper.

"It is a serious matter [because] if the lady does
not have an account with Barclays; if the woman
doesn't have a house in London, then who are the
people crafting this vile and wicked lies against
her," Nana exclaimed.

Ato Dazie indicated that his checks in Leicester
proved that no such newspaper with the name The
Leicester Recorder exits in Britain making the
publication an absolute falsehood to tarnish the
image of Betty Mould.

He said given the level of politicking in the
country, we should not descend into the realms of
absurdity.

Nana Ato Dazie stated unequivocally that they will
sue Ghanaweb.com for not doing due diligence
before publishing the story.





Source - MyjoyOnline


---