General News
[ 2012-06-12 ]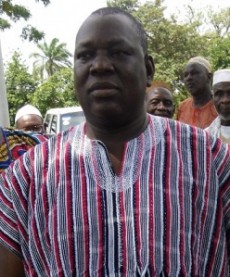 Moses Bukari Mabengba
Minister 'Cries'
Moses Bukari Mabengba, Northern Regional Minister,
says the media do not cross-check sources and
facts of news, especially in conflict areas of the
region before publication thus exacerbating the
situation.

He said the situation whereby radio stations in
Accra allow people to call into their studios from
conflict prone area in the Northern region to
report on conflict without the radio stations
cross-checking from appropriate authorities to
confirm such claims was derailing efforts at
maintaining peace in the region.

He cited an instance in which an individual, who
claimed to be the chief of Nakpanduri called into
an Accra-based station and alleged that the
regional minister was complicit in issues that had
resulted in tribal clashes between Kokombas and
Bimobas, which broke out last Monday.

Mr Mabengba made the complaint at a meeting with
journalists in Tamale on Saturday before leading a
Regional Security Council delegation to embark on
a tour of Kpamale and Nakpanduri communities in
the Bunkpurugu/Yunyoo District where tribal
clashes broke last Monday between Kokombas and
Bimobas following disagreements over extension of
a parcel of land belonging to a basic school at
Kpamale.
Nakpanduri and Kpamale are Kokomba and Bimoba
neighbouring communities respectively in the
Bunkpurugu/Yunyoo District, which until last
Monday's incident had recorded no conflict.

The new demarcation of the land by the Nakpanduri
Chief, which was being contested by his Kpamale
counterpart, resulted in the clashes.
Even though the security agencies responded
swiftly and brought the situation under control,
three people were killed.

Four others sustained gunshot wounds and over 90
houses built mostly with mud and thatch roofing
were burnt down.
Police personnel in the district have arrested one
person and retrieved

two locally manufactured guns while six other
suspects are still on the run.

The Regional Minister reminded radio stations,
especially those based in Accra, to be mindful of
the consequences of their broadcast and asked them
to promote peace in the Northern region.

He asked the offending media houses to adhere to
journalistic principles in the execution of their
duties.

He also asked some of the Northern Regional
correspondents of Accra-based radio stations to
verify their facts from appropriate authorities
before reporting since some of them produce
unconfirmed reports while others report as if they
witnessed such incidents.
Mr Mabengba said he was not a tribalist and could
not fan tribal conflicts, assuring that he would
continue to work to promote the supreme interest
of the region and its people.


Source - GNA


---