General News
[ 2012-06-07 ]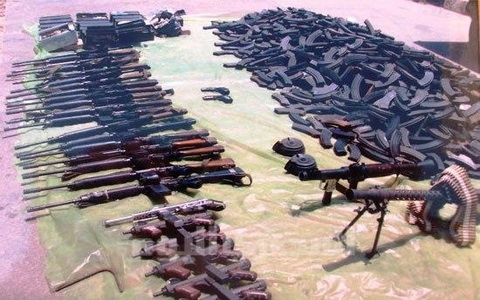 Customs impounds cache of weapons
Operatives of the Customs Division of the Ghana
Revenue Authority in the Ashanti Region,
Wednesday, intercepted and detained an articulated
truck carrying a cache of weapons concealed in
bags loaded with kola nuts at Anwiankwanta on the
Kumasi-Obuasi road.

The truck, registered with an Ivorian number
6l88EE-01, was said to be on its way to the
Asawase kola market, when it was intercepted by
the Customs task force around 11:00a.m. on
Wednesday.

Weapons found on the truck include nine AK 47
rifles, one pistol, and 281 unspent cartridges
which had been concealed in sacks loaded with kola
nuts, charcoal, and tea bags.

Boali Alhassan and Nusilu Acbko, the driver of the
truck and his mate respectively, together with two
other occupants of the truck, Ahmed Issifu and Ali
Awudulai, were arrested and are currently being
interrogated by the Kumasi police.

Snippets of information picked by the Chronicle
indicate that the weapons were being transported
to one businessman at Asawase, whose name has been
concealed for security reasons.

The Ashanti Regional Commander of Customs, Mrs.
Mawusi Dadjo, told the Ashanti Regional Minister,
Dr. Kwaku Agyemang-Mensah, the Regional Police
Commander, DCOP Augustine Gyening, and the Kumasi
Metropolitan Assembly Chief Executive, Samuel
Sarpong, during a briefing a few hours after the
arrest, that they had information from a reliable
source that an Ivorian truck, suspected to be
carrying contraband goods, was heading towards
Kumasi.

Armed with the information, the Customs Commander
said a team of personnel was dispatched to the
Kumasi-Obuasi road, and fortunately managed to
intercept the truck at Anwiankwanta.

The Regional Commissioner said when the occupants
of the truck were subjected to interrogation, they
cou.1d not respond appropriately, leading to their
subsequent arrest and the seizure of the vehicle.

Further searches after the seizure revealed
weapons concealed in some of the sacks, numbering
over hundred, together with kola nuts, charcoal
and tea bags.

Meanwhile, Dr. Kwaku Agyemang-Mensah has commended
the security personnel for their swift action, and
expressed the optimism that investigations would
be speeded up to unravel the faces behind the
transportation of the weapons.

He observed that with a few months left for
elections, it was worrying to hear such reports of
the transportation of weapons, and urged the
security apparatus to continue to work hard and
ensure that such incidents were nipped in the
bud.

The Regional Police Commander, on his part,
assured the public that it was in full control of
the security situation in the region, and would
continue to maintain the peace and safety
residents in the region are enjoying.






Source - The Chronicle newspaper


---