General News
[ 2012-05-23 ]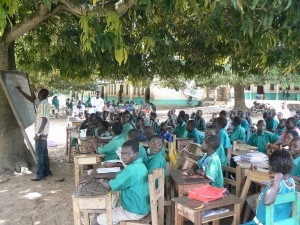 GES to close down substandard private schools
The Ghana Education Service (GES) has threatened
to close down all substandard private schools as
part of steps to maintain quality in education .

The Ghana National Association of Private Schools
has however chided the GES about why it continues
to complain about quality of teaching and learning
in private schools when it shirks monitoring and
supervision as part of its mandate.

But the deputy Director General of GES, Charles
Aheto Tsegah insists the service embarks on
quarterly monitoring while bemoaning the springing
up of other illegal private schools.

He said it is not true that the GES does little
or no monitoring and supervision to raise
standards in education.

"Sub standard and average schools are the kind
that does not provide the necessary environment to
ensure the safety of children and ensure that
children can learn in an environment that is
conducive for them" Mr. Tsegah said.

He added the substandard schools "put the
children at risk and for us this is not what we
want to allow".

Meanwhile, an executive member of the Ghana
National Association of Private schools says
although he admits some private schools lack the
capacity to provide quality education, as
stakeholders, the association can only do little
as the ultimate power of sanctioning lies with the
GES.
Source - RadioXYZonline.com


---