General News
[ 2012-05-22 ]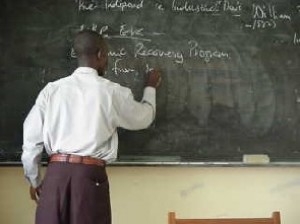 NAGRAT wants thorough discussion on new education policy
The National Association of Graduate Teachers
(NAGRAT) has called for an in-depth discussion of
government's new education policy before it is
pushed through.

The decentralization policy forms part of
attempts to address shortfalls in the education
sector.

The policy is high on the agenda of a review
meeting by over 50 stakeholders in the education
sector in Accra.

The meeting which ends on Wednesday, May 23, is
expected to come out with recommendations as to
how best the identifiable pot holes in the
education system can be sealed.

But the Vice President of NAGRAT, Angel Karbonu
in an interview with XYZ News cautioned that if
thorough stakeholder consultations are not done,
the policy can pose serious difficulties during
the implementation process.

"We think that if government wants to push
through a major policy, like the decentralization
policy, there is the need for in depth and
thorough discussions and consensus building by all
stakeholders of education before we rush this
model through" Mr Karbonu said.

He added that "if not done we are going to have a
situation we had in 1987, when we implemented the
educational reform that created the impression as
if it was an acceptable reform to everybody and
yet there were dissenting views".
Source - RadioXYZonline.com


---