General News
[ 2012-05-16 ]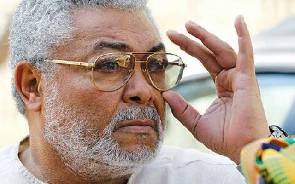 Gov't appointees not "genuinely minded" NDC people - Rawlings
The former President of Ghana, Jerry John Rawlings
has descended on some appointees in the ruling NDC
administration describing them as self seeking
politicians who are only in power for "something
else".

Speaking at the 30th anniversary celebration of
the 31st December Women's Movement which was under
the theme "Our Walk into Women Empowerment" ex
President Rawlings said "some are justified in
saying that those in office are not genuinely
minded, NDC spirited, NDC-hearted people and want
to destroy the party in favour of something
else".

He added that "so long as they hold onto power and
with some of our supporters persistently refusing
to see the truth and what should have been done,
then it becomes difficult to take back our
party".

Ex President Rawlings added that he feared for
the future of the NDC especially now that the
government led by President Mills has decided to
monetize everything.

"We have always won our elections on the power of
integrity. Now that they have chosen to monetize
everything, how much of a chance do they have,
having departed from the weapon and values that
sustained our political success?".

He added that this year's election will create a
lot of stress in the country unless the political
selfishness, greed, thievery and ingratitude
exorcized from the NDC.

"The culture of political selfishness, greed,
thievery and ingratitude has to be exorcised. I
said before in 2011 that this year's elections
will create a lot of stress in the country and you
are living witnesses to that reality.

"Today men are parading and strutting the
corridors of power, taking credit for your
achievements, including the political and social
security of the state when it was most needed. I
hope one day when the truth is told this triumph
of evil will be reversed".

Source - RadioXYZonline.com


---