General News
[ 2012-05-11 ]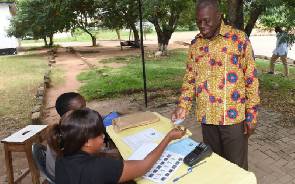 Fire guts Job 600
Fire gutted the sixth floor of the Job 600
building Thursday evening.

The timely intervention of fire personnel saved
what could have a further set-back plans to bring
the historical edifice back to life.

The extent of damage is minimal.

Engineers at the site told Joy News Television
sparks of fire from a welding machine burnt a
tools box, causing a near explosion.

Fire Officer Christopher Akita, who led the team
of fire fighters, said it was initially difficult
getting access to the sixth floor but they
eventually made it and put out the fire.

He assured there was no cause for alarm adding, a
detailed investigation would be conducted.

The Job 600 was built during the administration of
Osagyefo Dr. Kwame Nkrumah, Ghana's First
President to accommodate participants attending
the OAU (now African Union) Conference held in
Accra in 1965.

The structure is currently being rehabilitated for
use as offices by Members of Parliament.

The building is scheduled to be completed by the
end of August 2012.



Source - Joy News Television


---