General News
[ 2012-05-11 ]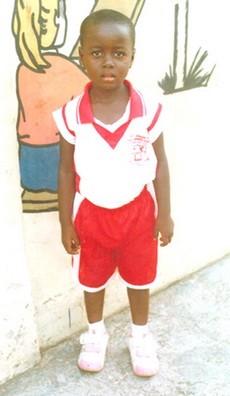 Student arrested for Asuoyeboa murder
A 27-year-old Level 300 student of the University
for Development Studies (UDS) has been arrested
for allegedly murdering a five-year-old girl at
the SSNIT Flats at Asuoyeboa in Kumasi in March
2012.

The lid on the suspect, Max Afriyie Apomasu, a
student of the Department of Planning of the UDS,
Wa Campus, was blown by the deceased's playmate
after she had been discharged from the SDA
Hospital at Kwadaso in Kumasi.

The deceased, Kezia Fudjagbo Arkofa, and her
playmate, Mercy Agyenim Boateng, got missing when
they were playing around their residence about
4:00p.m. on Wednesday, March 7, 2012.

They were allegedly taken to a nearby cassava farm
where the suspect murdered Arkofa and inflicted
machete wounds on Mercy.

Arkofa's mutilated body was discovered in the
cassava farm, which is about 500 meters from their
house, around 11:00a.m. on Wednesday, March 8,
2012.

However, as if by divine intervention, Mercy was
found alive but traumatised at the crime scene,
with several machete wounds on parts of her body
and bleeding profusely.

A farmer, Abdulai Yakubu, was the first to come
upon Mercy on the farm. But as a result of the
ordeal she had gone through, she could hardly
utter a word.

The farmer raised an alarm, which attracted
neighbours who rushed Mercy to the SDA Hospital at
Kwadaso, while a search party discovered Arkofa's
mutilated body a few meters away.

According to the Sofoline District Police
Commander, Superintendent Cosmos Afena Damoah, it
was after Arkofa's four-year-old playmate had been
discharged from the hospital that she revealed to
the police that "it was Uncle Max Apomasu who had
inflicted the knife wounds on me and also killed
my friend Arkofa".

He said "the little girl who survived the ordeal
pointed at a house directly opposite theirs as
Uncle Max's residence and when we asked her
parents, they confirmed that a student of the UDS
resides in that house but that he left for school
moments after the incident had taken place".

He said about a week ago Apomasu was arrested on
the Wa Campus of the UDS where he had sought
refuge after allegedly murdering the little girl.

Supt. Damoah said as part of their investigations,
the police proceeded to the Wa Campus of UDS to
arrest the suspect.

Following his arrest, the suspect was put before
court and remanded in police custody by the Kumasi
Circuit Court.

He is to reappear on May 15, 2012, while the
docket on the case has been forwarded to the
Attorney-General's Department for advice.





Source - Daily Graphic


---