General News
[ 2012-05-08 ]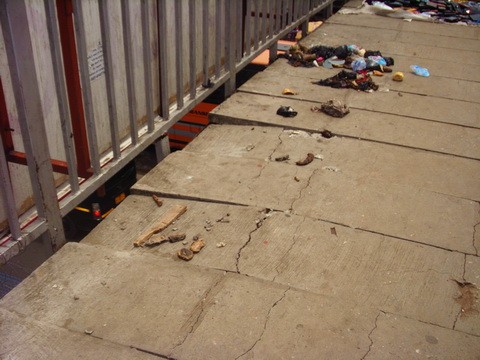 The footbridge
Kaneshie footbridge is a deathtrap
The bridge which facilitates safe crossing on the
Kaneshie highway is now spotting deadly wide
cracks putting the lives of hundreds of people who
use it daily in danger.

Traders who hawk their wares right on the shaky
and risky bridge say the problem was aggravated
about a month ago when an overloaded tipper truck
hit it.

Aside the visible cracks, the nuts screwed to the
bridge are all rusty leaving the bridge in a very
dilapidated state.

According hawkers on the bridge who spoke to Xfm
95.1, some city authorities are aware of the
situation but nothing is being done to save the
collapsing bridge.

One hawker on the bridge lamented, "the bridge is
shaking and causing fear in commuters since they
are afraid the bridge would fall off one day. They
complain a lot to us traders as if we caused the
damage. We wish the bridge would be fixed as soon
as possible. Even though we are afraid of selling
on the bridge, we also don't have any place to
sell our wares".

"I don't think the authorities would come early
enough to fix the bridge since they've come
several times to check it, even Vandapuije came
here to confirm the damage. They even took
pictures of the bridge and assured us that they
would come to fix it for us", another said.

The bad nature of the bridge has put intense
pressure on the other bridge close to the damaged
one on the same highway since most commuters will
rather use that which is relatively safer.

Until the problem with the first bridge is
checked; it is only a matter of time that the
second bridge will follow in the same manner.







Source - Other


---
Structural engineers should do their work well by inspecting all bridges regulary to prevent incidents like this from occuring
ato, 2012-05-08 (20:39:11)