General News
[ 2012-04-26 ]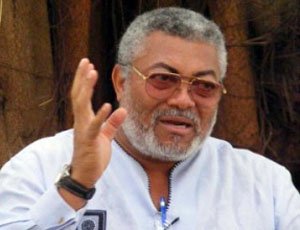 JJ Rawlings: Asiedu Nketia must go
Rawlings demands removal of General Mosquito
A former President of Ghana, Jerry John Rawlings,
is demanding the removal of Johnson Asiedu Nketia,
the General Secretary of the ruling NDC, as the
key to the party's retention of power in the
upcoming general elections.

This is one of the many demands raised by the
founder of the party during a meeting with chiefs
from the Volta Region aimed at resolving the
dispute between him and President John Evans Atta
Mills.

A close ally of the Rawlingses and MP for Lower
Manya, Michael Teye Nyaunu, who disclosed this to
Citi News said ex-president Rawlings believes Mr.
Nketia's continuous hold of office as the party's
chief scribe is detrimental to the progress of the
NDC.
"For Asiedu-Nketia to refer to the founding father
of the party as a barking dog means he has lost
the credibility to function as the
General-Secretary of the NDC," he told Citi News.

According to Hon. Nyaunu, although the founding
father of the NDC did not refer to Asiedu Nketia
as a threat or an enemy, Mr. Rawlings felt he was
unsuitable to lead the party as the
General-Secretary.

"There are also a lot of things that the Mr.
Rawlings finds displeasing and that includes the
Woyome case," the MP for Lower Manya revealed.

He said Mr. Rawlings was worried that the NDC
government was marred with corruption which would
adversely affect the confidence of supporters, six
months away from the 2012 presidential elections.




Source - Citifmonline


---