General News
[ 2012-04-23 ]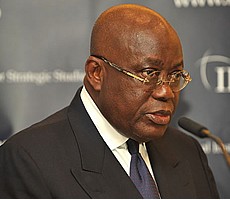 Nana Akufo-Addo
Calls on Nana Addo to condemn Ken Agyapong misplaced - Agyarko
Mr Boakye Agyarko, the campaign manager of Nana
AKufo-Addo says calls for the party's flag-bearer
to distance himself from recent comments by
Kennedy Agyapong are misplaced.

Boakye Agyarko's remarks follow calls on Nana
Akufo-Addo to condemn and distance himself from
the infamous comments made by Assin-North MP.

But Mr. Agyarko tells Joy News it will be
counterproductive for Nana Addo to respond since
the party has already issued a statement on the
matter.

"Let us remember that the party, as the largest
institution, has issued a categorical statement on
that. It is my candid opinion that this party is
bigger than any individual inside this party and
once that party has spoken, so clearly and
categorically, that statement binds all of us.
None of us from Nana Addo all down is in position
to contradict that statement."

He also refuted claims that Kennedy Agyapong's
comments were influenced by Nana Addo's 'all die
be die' pronouncement.






Source - Joy News


---