General News
[ 2012-04-20 ]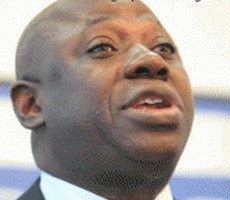 Mohammed Mumuni, Foreign Minister
UK gov't pledges €105m to Ghana
The UK government has pledged an amount of €105
million to assist Ghana attain universal basic
education in 2015 which is core of the Millennium
Development Goal, MDG II.

The pledge follows an earlier ¢17m donated by the
UK government as its contribution towards a
peaceful organisation of election 2012. The 17
million is to be used in training polling agents,
police and other key stakeholders in the electoral
process.

This was disclosed by the Foreign Minister
Mohammed Mumuni at a Commonwealth roundtable
discussion held at the British High Commission in
Accra.

The discussion led by Lord Howell, UK Minister of
State responsible for all of Foreign and
Commonwealth Office Business in the House of Lords
and the Ghana Foreign Minister, was to brief the
media about the many reforms geared towards making
the Commonwealth Nations respond to the challenges
of its people.

Alhaji Mohammed Mumuni said the Commonwealth is no
longer a Commonwealth of nations but of people
within the nations.

He said as part of the many reforms, an Eminent
Persons Group (EPG) was instituted and chaired by
the Executive Director of the Institute for
Democratic Governance, Dr. Emmanuel Akwete to
pinpoint specific areas to strengthen the
Commonwealth.

The EPG has concluded its work and has presented
its recommendations to the Commonwealth for
acceptance.

One of the many recommendations is the new
Commonwealth Charter which is to bring all the
values- good governance, rule of law, respect for
human rights etc under one big umbrella.

Mr Mumuni was hopeful that in spite of the
diversity of cultures and sensitivities, the
Charter will provide common grounds for issues in
terrorism, human rights, small arms, human
trafficking, and piracy.

Lord Howell said the Commonwealth is emerging as
the most valuable network to deliver values of
prosperity and gains to all.

Having served 40 years in the Commonwealth
Parliamentary Group, Howell is convinced the
Commonwealth is the face for the future.

He said the new reforms will ensure that
Commonwealth will match up to the standards and
not just be a talk-shop.

He told Myjoyonline.com at the sidelines of the
meeting that "Commonwealth will reinforce the idea
that no one country can have complete isolation
and monopoly of its own affairs."

Dr Emmanuel Akwetey, who was also a member of the
panel, was hopeful the Commonwealth Ministerial
Action Group, which is the custodian of the values
of Commonwealth will look into the recommendations
proffered by the EPG.

He is convinced, more than ever that the
Commonwealth will be able to deal with issues of
inequality and promote the quality of education
across member countries.

The discussion was hosted by the British High
Commissioner to Ghana, Peter Jones, and had other
diplomats and political party representatives in
Ghana attending.

Source - MyjoyOnline


---