General News
[ 2012-08-07 ]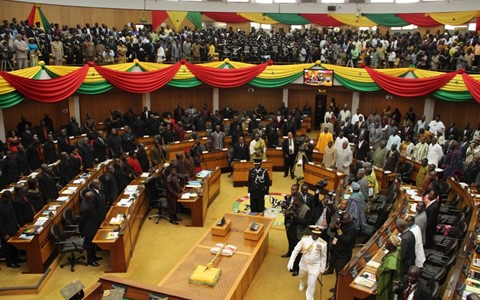 MPs unhappy about Mills' funeral security arrangements
Some Members of Parliament are said to be very
unhappy with how the funeral arrangements for the
late President are conflicting with the conduct of
public business in the house.

According to Adom FM's Parliamentary correspondent
Listowell Fordjour, the MPs are unhappy that the
greater part of the funeral arrangements of the
late President Mills have coincided with the
sittings of the House.

The MPs also raised concerns over security
arrangements such as how they would be allowed
entry into Parliament House since State Protocol
are yet to communicate the concluded arrangements
to the House.

Meanwhile, the House has plunged into a
closed-door meeting deliberating on how to ensure
the funeral security arrangements put in place
would not affect the business of the House.

The funeral of the late President Mills is
scheduled to take place between 8-10 August. The
former President would be laid in state at the
State House on August 8 and 9.

The final funeral rites would be held at the
Independence Square, August 10.






Source - MyjoyOnline


---