General News
[ 2012-08-06 ]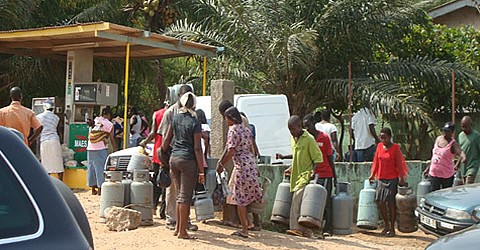 Construction of gas processing plant to begin this month
Construction is expected to begin this month on
the country's first gas infrastructure which
includes a gas processing plant.

Chief Executive Officer of the Ghana Gas Company,
Dr. George Sipa-Yankey, tells Joy News a sod
cutting ceremony was scheduled for August 10, but
has had to be rescheduled due to the President's
funeral which would take place on the same date.

"The ex-president agreed to do the sod cutting,
but unfortunately, he's passed away… Certainly, we
are hoping that immediately after the burial, a
week or some days after we will agree on a day for
the sod cutting ceremony."

The Company last week took delivery of more than
3,000 pipelines from China. Another consignment of
about 3,271 is due to arrive soon. Dr. Sipa-Yankey
says most of the equipment for the project have
arrived and the laying of the pipes would soon
begin.

"We did inform Ghanaians that we're hoping to
finish this project by the end of this year… and I
want to confirm that we are on target."

Meanwhile, the National Petroleum Authority is
assuring the general public there should soon be
enough LPG on the market.

It explains a power failure at the Tema Oil
Refinery last week which affected some machines at
the refinery led to the suspension of production
of certain petroleum products such as LPG.

Public Relations Officer, Yaro Kasambata says they
have taken delivery of 8,000 metric tons of gas.

According to him, due to the down-time, the
refinery has had to work all through the weekend
to supply the product to the market.






Source - Joy News


---