General News
[ 2012-08-01 ]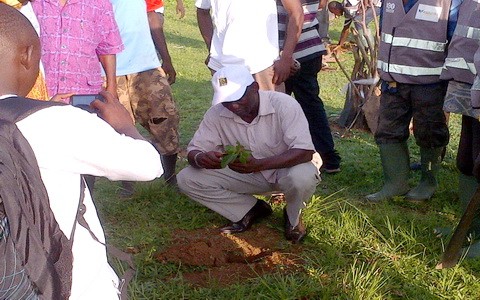 Greening the north remains a priority- SADA Boss
The Chief Executive Officer of the Savannah
Accelerated Development Authority, Alhaji Gilbert
Seidu Iddi has assured citizens in the Northern
part of the country that greening the region will
remain a priority to the program as part of the
many intervention carried out to bridge the
Southern- Northern development gap.

He said as far as the northern afforestation
intervention project was concern SADA really meant
business and nothing could stop the project.

Alhaji Iddi who was addressing journalists in
Bolgatanga in the Upper East region after
inspecting some sites used for the pilot phase of
the project said "Application forms will be sent
to all district assemblies in the Upper East
region for employment with each assembly
recruiting not less than 100 prospective
beneficiaries and will be put on pay rolls".

He added that all the districts will be given
guidelines about how to choose where to plant but
insisted SADA will protect water bodies as much as
possible.

The SADA boss announced that apart from creating
employment for the youth, fire brigade groups will
also be recruited to make sure the seedlings that
are planted are not consumed by fire.

He reminded Ghanaians that SADA is a non partisan
organisation and has come to stay and so whatever
intervention the program is making will continue
to operate under any political administration.

Alhaji Seidu Iddi was accompanied by officials of
SADA and ACI Construction and Restoration, a
private company partnering SADA to implement the
Afforestation project.

He visited planting sites at Pusu-namong, Winkogo
and Via Dams in the Upper East region where he
interacted with project coordinators and
beneficiaries.

Alhaji Iddi expressed his satisfaction with the
level of implementation so far and urged all
stakeholders to join hands in achieving its
success.

The SADA-ACI Afforestation Project which was
launched earlier in July by then Vice President
and now President, John Mahama seeks to plant and
grow an initial Five million seedlings of assorted
trees within the SADA Zone (that is three Northern
regions, Northern Brong Ahafo and Northern Volta
Region) in the 2012-2013 period.

Whilst solving the problem of the accelerated rate
of deforestation by the reclamation of lost
savannah vegetation, it would serve as a source of
employment for the beneficiaries enabling them
contribute meaningfully to improved livelihoods
and to the socio-economic development of their
communities and country at large.

The SADA-ACI Afforestation Project Manager,
Polycarp Kazaresam assured Ghanaians of ACI
Construction and Restoration's commitment in
contributing to turning the north into a forestry
zone.

He said his company will continue to support the
project with adequate resources, expertise and
labour.

The Project is also being implemented in
consultation with the Environmental Protection
Agency, the University for Development Studies,
the Forestry Commission, and NADMO, selected
municipal metropolitan and district assemblies
(MMDAs) and the indigenous people.






Source - MyjoyOnline


---