General News
[ 2012-07-27 ]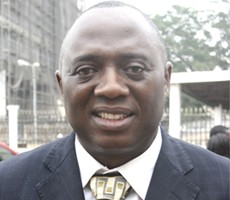 Bawku Central MP, Adamu Dramani sentenced to two years imprisonment
The New Patriotic Party Member of Parliament for
Bawku Central Adamu Dramani Sakande has been
sentenced to two years imprisonment by the Supreme
Court.

He was found guilty of false declaration of
office, perjury and deceiving a public officer.

Joy News' Anny Osabutey reported he has been
whisked away to start his sentence by the police.


Mr Dramani's lawyers pleaded for mitigation.

Mr Yonny Kulendi, lawyer for the MP told the court
Mr Adamu Dramani was a victim of circumstances.

Mr Dramani, according to the lawyer, procured the
services of a certain Stanley Opoku, who claimed
to be a lawyer, to help him renounce his
citizenship and was led to believe the
renunciation had been done.

But the court rejected the plea.

A cattle farmer sued the MP, accusing him of
violating the electoral laws of by contesting the
Bawku Central Constituency Parliamentary seat
whilst still a British citizen.

The state took interest in the case and filed nine
counts relating to his nationality, perjury,
forgery of passport, election fraud and deceiving
public officers to be elected as an MP against Mr
Dramani.

He was however exonerated on six of those charges
on July 8, 2010, leaving with three charges of
false declaration of office, perjury and deceiving
a public officer.

He was sentenced to two years for each of the
charges but the sentences will run concurrently.

The MP showed a brave face, Anny Osabutey
reported, forced a smile, shook a few hands and
thumped feebly into the air to assure a few
supporters present at the precincts of the court
before being whisked away.
Source - MyjoyOnline


---