General News
[ 2012-07-27 ]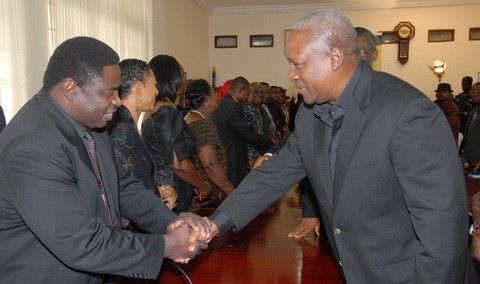 President Mahama in a hearty handshake with Dr. Abu Sakara, flag bearer of CPP
Smooth transition has earned Ghana high praise – Prez Mahama
President John Mahama says the smooth transition
of power following the demise of his predecessor,
President John Evans Atta-Mills, has earned Ghana
a lot of praise, especially in the international
community.

The smooth transition, he said, demonstrates the
country's ability to withstand any political
eventuality.

"It shows that Ghana has a tried and tested
constitution that is able to withstand any
political eventuality. And I have received a lot
of messages of good will from world leaders
congratulating us on how smoothly the event that
took place occurred."

He was speaking when the Presidential candidate of
the Convention People's Party, Abu Sakara paid a
courtesy call on him at the Osu Castle to console
him on the death of President Mills and to also
congratulate him on his elevation to the office of
president.


Source - Joy News


---