General News
[ 2012-07-26 ]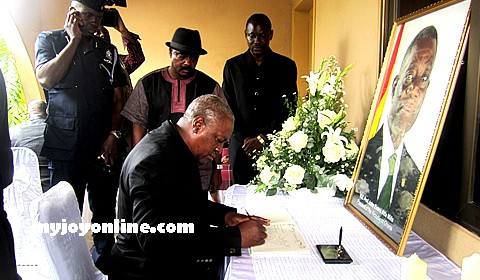 NDC NEC locked up in meeting to decide on who leads the party to Dec polls
The political future of President John Dramani
Mahama, who was sworn into office Tuesday, will be
determined by the National Executive Committee
(NEC) of the ruling National Democratic Congress
(NDC), in accordance with party's constitution.

John Mahama assumed the post after President John
Evans Atta Mills passed away at the 37 Military
Hospital Tuesday afternoon.

Addressing the issue pertaining whether the
President will automatically assume the
flagbearship role of the party, Deputy Energy
Minister, Alhaji Inusah Funsani said per the
party's constitution, the ultimate decision on the
matter rests in the hands of the National
Executive Committee of the party.

The Deputy Minister speaking on Election
Headquarters on Joy FM Wednesday said there are
four provisions in the NDC constitution that deals
with the matter of succession.

He said the vacancy created by Mills' death,
making reference to Article 23, which states that
the President or Presidential candidate, if he is
a member of the party, is a member of the National
Executive Committee.

He added that Article 47 stipulates how a vacancy
created in the committee can be filled. He
disclosed that, per the constitution, NEC appoints
a person to fill the vacancy.

Inusah Funsani disclosed, however, "the is no
provision on the procedure of appointing to fill
the vacancy created in the National Executive
Committee."

The NEC members, by Article 50, are vested by
residual powers "to make provision by regulation
to govern any matter that is not provided for in
the constitution."

"NEC will have to decide" if there will be a
congress to elect a flagbearer for the party, he
disclosed.

Former Chief of Staff, Nana Ato Dadzie, was a
guest on the show, was of the view that "the NDC
probably should count its blessing that it has in
the person of the new President who from all
indication is likely to be flagbearer."

According to him, John Mahama, who has risen from
all spheres of the party, "is very competent" to
handle affairs if he is given the mandate.

Source - MyjoyOnline


---