General News
[ 2012-07-26 ]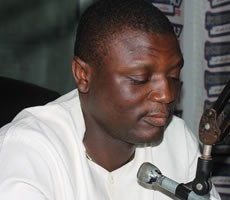 Kofi Adams
Prez Mahama must 'breathe' a new life into NDC - Kofi Adams

Suspended General Secretary of the ruling National
Democratic Congress (NDC), Kofi Adams has urged
the rank and file of the party to support the
newly elected President John Dramani Mahama at
this trying times.

He said the NDC would be gravely affected if John
Mahama fails to complete the Better Ghana Agenda
the NDC promised Ghanaians ahead of the December
polls.

The remarks by Kofi Adams come after the National
Executive Committee (NEC) of NDC declared
President John Dramani Mahama as the leader of the
party.

This according to the ruling party is in
accordance with Article 26 (1) of the NDC
Constitution which states that, "the president of
the Republic who is a member of the Party is the
leader of the Party when it is in government".

Speaking on Asempa FM's Ekosii Sen programme
Wednesday, Kofi Adams opined that the onus lie on
President John Mahama to ensure unity to guarantee
a landslide victory for the NDC.

He noted that the President must use the
opportunity to unite the feuding faction in the
NDC to ensure the opposition does not take
advantage of their divisions.

Conceding that there are challenges in the ruling
party, Kofi Adams who also doubles as the aide to
former first couple believes President Mahama will
succeed with the support of all well-meaning NDC
members.

Commenting on who leads the ruling party in the
December polls, Mr. Adams recommended consensus
building rather than holding a Delegate Congress
to elect a flag-bearer.

"Personally, I will recommend that the NDC doesn't
go through any vigorous internal campaign to elect
a leader. Proper consultation can lead to
consensus building which will benefit the party".

He was convinced that another Congress to elect a
flag-bearer considering the FONKAR/GAMES in
Sunyani could cause further divisions in the
party.

That notwithstanding, Kofi Adams expressed
optimism in the leadership of President Mahama.
Source - MyjoyOnline


---