General News
[ 2012-07-26 ]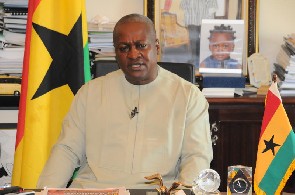 NDC to decide Mahama's flagbearership fate tomorrow
The fate of President John Mahama as a possible
flagbearer of the governing National Democratic
Congress will be decided tomorrow at a National
Executive Council meeting.

In line with Article 26:1 of the NDC Constitution
President John Mahama was named leader of the NDC
after a brief Functional Executive Council
Meeting, Wednesday.

The article said: "The president of the Republic
who is a member of the Party is the leader of the
Party when it is in government".

But with five months to go for the general
elections the party has to elect a flagbearer to
replace the late President John Mills.

General Secretary of the NDC Johnson Asiedu Nketia
dismissed assertions that the second placed person
at the party's congress automatically steps in as
the flagbearer.

Nana Konadu Agyeman-Rawlings secured 90 votes in
an overwhelming defeat to the late president John
Mills during the party's congress.

Asiedu Nketia told Joy News nowhere in the party's
constitution says the second person at congress
automatically becomes the flagbearer.

According to him, tomorrow's meeting will draw a
"road map that will lead to the selection of the
flagbearer for the 2012 election."

He explained the party's constitution is silent on
what to do in the event a flagbearer dies and has
to be replaced but was quick to add that under
Article 50 of the NDC constitution, the NEC has
residual power to take a decision in such
unexpected circumstances.

"We do not have any clause in the party's
constitution that deals with the replacement of an
elected flagbearer. Then we have to look at
Article 50 of the party's constitution that gives
residual powers to the NEC to take a decision, to
make rules, to govern any situation that has not
been anticipated and provided for in the
constitution," he explained.

Source - MyjoyOnline


---
Dear reader, Mr Victor Smith must be chose as vice because Late President Mills admire him as a very intelligent fellow and that is why he was appointed as an ambassador then regional commisioner. I hope President Mahama will choose him in oder carry on our strong campaign. Late President Evans Fiifi Atta Mills May he rest in peace.{RIP}
king,london, king,london 2012-07-27 (02:26:45)
Add YOUR View here