General News
[ 2012-07-25 ]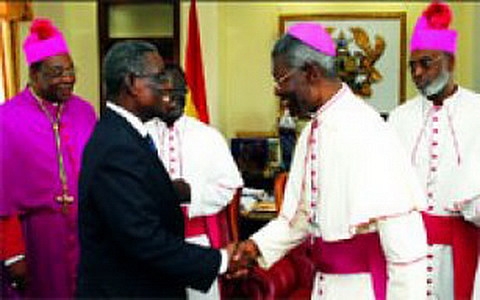 Late President Mills with Archbishops of the Catholic Church and Archbishop Palmer-Buckle looking on.
Prez Mills showed traits of wise King Solomon - Palmer-Buckle
The Catholic Church's Metropolitan Archbishop of
Accra, Archbishop Gabriel Charles Palmer-Buckle
has equated the persona of the late former
President J.E.A. Mills to that of biblically
acclaimed wise King Solomon.

He said, like King Solomon, President Mills
consistently governed with the hand of God and
constantly requested that religious leaders help
him seek the face of God in leading the nation,
stressing, "this was what President John Evans
Atta Mills gave us to understand when we first
visited him after he took office."

"He asked us for prayer that he may know the will
of God and he may be able to lead this country
according to that will of God."

Speaking on Breakfast XYZ on Wednesday,
Archbishop Palmer-Buckle said at this time,
Ghanaians must be "pondering over the legacy the
late President John Evans Atta Mills has left this
country: A God-fearing man, very humble person and
someone who always felt the need very strongly to
be guided by God in his decision."

Touching on his last meeting with the late
President Mills, Archbishop Palmer-Buckle said
"the last time we met him, one could tell that he
was physically not in the best of health but we
all have our ups and downs and I did not expect
that he would have died even before the
election."

He said as Ghanaians, it is necessary to ponder
over what everyone might have contributed to the
early demise of the former President.

"I will beg our politicians that it is even
possible that the sort of acrimony; the sort of
language that we have been using to one another;
the sort of hate speech that has been going on in
all quarters; the sort of disrespect [and]
indiscipline in our language and all; I believe,
could have contributed to the worsening of his
health and his demise," he averred.

Archbishop Palmer-Buckle admonished Ghanaians to
resolve to do things that will bring unity,
justice, peace and fairness in the country so that
all can partake in the physical and spiritual
blessings bestowed on country.

He said the country must be united for the sake
of the country and not in the interest of any
individual.
Source - RadioXYZonline


---