General News
[ 2012-07-19 ]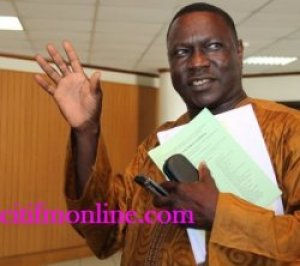 Hon. John Tia
PAC's chair Kan-Dapaah is being "dictatorial" – John Tia
Some members of the Majority Side of the Public
Accounts Committee (PAC) of Parliament have
accused the chairman of the fact-finding body,
Albert Kan-Dapaah, of being "dictatorial" in
handling proceedings.

According to one of them, John Tia Akolugu: "The
chairman is behaving like a dictator. He's being
dictatorial in these matters. He's behaving in a
manner that is not commensurate with our work. He
is behaving like a judge and prosecutor in his own
court and he must bring this to an end."

The Talensi MP's accusations come on the back of
the conspicuous absence of the Majority NDC side
from Wednesday's hearing of the Committee where a
former Attorney General, Betty Mould-Iddrisu,
appeared to answer questions pertaining to the
disbursement of some 94 million Euros to
Construction Pioneers (CP).

According to Hon Tia, the chairman of the
committee after several reminders refused to make
available transcribed copies of the previous
sittings as far as madam Mould-Iddrisu and the CP
judgment debt was concerned.

He said they needed the transcribed copies to
apprise themselves of some concerns raised by the
former Attorney General at a previous appearance
where she alleged that some members of the
committee had misbehaved untowardly toward her and
making allegations that were bringing her
reputation into disrepute.

He added that Hon. Kan-Dapaah went ahead with
Wednesday's hearing even though they (the majority
side) had suggested that if the copies would not
be available then the sitting be adjourned until
all committee members are furnished with copies to
apprise themselves of the previous hearings to ask
relevant questions.

It was against these reasons why the majority side
'boycotted' Mould-Iddrisu's hearing on Wednesday.
He added that "in terms of what has just happened
I can tell you that the report is jeopardised
because it would have so many interpretations –
it's political, it's bias."


Source - Citifmonline


---