General News
[ 2012-07-19 ]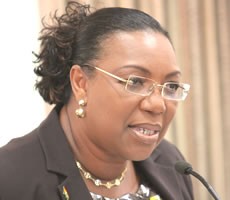 Betty Mould Iddrisu
PAC is not a court; tone down on legal jargons - Davies counsels Betty, Dadzie
The President of the Greater Bar Association is
urging the former Attorney General Mrs Betty Mould
Iddrisu and her lawyer Nana Ato Dadzie to tone
down on their legal jargons when they appear
before the Public Accounts Committee.

Frank Davies said the committee is not a court and
neither are the members of the committee lawyers
or judges.

Wednesday's Public Account Committee hearing the
controversial judgment debt payment to
Construction Pioneers (CP) was not without
controversy with the Betty Mould demanding the
recusition of the Atwima Mponua MP who she accused
of pre-judging the matter.

She said her rights to a fair hearing had been
trampled upon by the comments of the MP and
demanded that he be recused or she will not answer
questions put to her.

After several minutes of legal jargons, hearing
continued and was later adjourned to Friday.

Speaking to Joy News, Frank Davies said with all
respect to Betty Mould Iddrisu and Nana Ato
Dadzie, both of who he admitted are his seniors at
the Bar, their conduct at the hearing was
"needless".

He said the committee is "fact finding" and must
not be treated as though they were a court of
law.

"The question of jurisdiction and all those
matters and with all those things happenings it
was as if we were in a court of law.

"The committee is not a court. With all respect to
the Parliamentarians they are not lawyers. Kan
Dapaah is not a lawyer; he is not a judge. So if
you raise issues of legality and questions of
infractions of human rights, [what do expect them
to do?]." Davies stated.

He said Nana Ato Dadzie and Betty Mould Iddrisu
reserved the right to proceed to court if they
thought the PAC had no jurisdiction to hear the
matter.

He said the basis on which they asked for Isaac
Asiamah to be recused was not supported by
evidence.

Frank Davies appealed to the two to be
dispassionate when they re-appear before the
committee on Friday.







Source - MyjoyOnline


---