General News
[ 2012-07-18 ]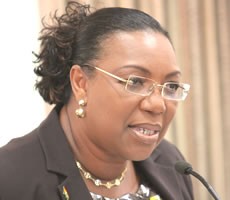 Mrs Betty Mould Iddrisu
Drama at PAC as Betty Mould mistakes "flawed" for "fraud"
There was drama at the Public Accounts Committee
sitting, Wednesday when former AG Betty Mould
Iddrisu accused Mr Isaac Asiamah of imputing fraud
to her and therefore asked that he recused himself
from the probe.

Isaac Asiamah, who is MP for Atwima Mponua said
Mrs Iddrisu's allegations leveled against him last
week were false. She had accused him of describing
her actions in respect of the €94 million payment
to CP as fraudulent but he said she had
misrepresented what he said.

Wagging the Parliamentary hansard, Mr Asiamah said
he used the word "flawed" in describing a document
and not "fraud" as Mrs Iddrisu and her counsel had
insisted.

The Chairman of PAC, Mr. Kan Dapaah however
declined to heed to the former AG's request,
stating that he did not have the power to take out
a member on the committee adding that such powers
were vested in the Speaker of Parliament, Joyce
Bamford-Addo.

After some back and forth argument between Mrs
Mould Iddrisu and her lead counsel Nana Ato Dadzie
on one side and the PAC Chairman, Mr Kan-Dapaah on
the other side, the witness began taking questions
from the committee.

Kan-Dapaah asked the former AG to clarify the fact
that Yamoransa-Assin Praso road, Akim Oda road
projects which CP were given claims for were never
constructed by the company.

In response, the former AG maintained that the
total amount €94 million paid to CP encompassed
mobilization, demobilization costs incurred on the
said road projects for which no construction was
done.

The hearing, which was fraught with intermittent
debates and disagreement over procedure and law,
was adjourned to Thursday with the former AG
expected to respond to issues on CP.






Source - Joy News


---