General News
[ 2012-07-09 ]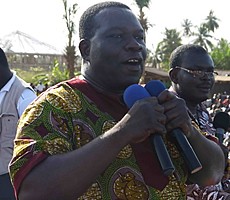 Dr Josiah Aryeh, Interim Chairman of NDP
Let NDC sleep; Rawlings will soon show his face in NDP – Josiah Aryeh
The Interim Chairman of the newly-formed National
Democratic Party, Dr. Josiah Ayeh has described
the National Democratic Congress (NDC's) reaction
to their association with the Rawlingses as
ill-informed.

The ruling party in a statement last week said
media reports linking its founder to the new party
are mere speculations.

But Dr. Ayeh maintains the Rawlingses are key
members who will show their faces in the next few
weeks.

He told Joy News' Elton Brobbey that many of the
NDP's leaders were not coming out as yet because
the Electoral Commission was not yet to finalise
the registration of the party.

"They ought to have waited for the dust to settle
to see exactly what is going on in the new party;
they hardly have any information; of course
because of the panic in their ranks right now
things like that have to be expected," he stated.


He explained the NDP was holding on with the
registration of new members and other
announcements because of a delay in their
certification by the Electoral Commission.

He said as a lawyer, he wanted to ensure that the
registration was legally and properly done before
taking other steps.






Source - Joy News


---