General News
[ 2012-06-29 ]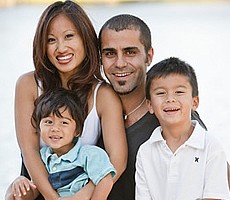 Sol and Christine Moghadam and their children
American couple arrested in Ghana over adoption cry of blackmail
The American couple who were detained on human
trafficking charges alleges attempts to blackmail
them.

Sol and Christine Moghadam were arrested last
Friday for over allegations they were attempting
to traffic out of Ghana four Ghanaian children it
later turned out they had legally adopted.

In the couple's latest blog posted yesterday,
Christine accused the blackmailers she wouldn't
name of being behind the false charges and the
subsequent ordeal they suffered at the hands of
the police.

Christine starts off by explaining why her blog on
which they had posted details about their adoption
experiences was inaccessible on Wednesday. She
said she decided to shut it down to avoid being
bombarded by the media who she says has
inaccurately told their story.

"Honestly," she says, "I don't have any regrets as
to how we handled our traumatic situation. I am
proud and surprised at the amount of strength and
courage all 8 of us had to push through. In the
midst of all the uncertainties and discomfort, we
were well loved and cared for by Ghanaian friends
and other Americans in Ghana. The assurance of
prayers for us from around the world became our
hope and our comfort. We were however disappointed
that there were others who took advantage of our
situation and tried to blackmail us for their own
fame and for money."

She continued, "Do I have anger and resentment
towards those that falsely accused us for child
trafficking at the expense of emotionally
traumatizing all 6 of our children? Absolutely
not. We didn't deserve to be treated the way we
were. I admit it was hard to forgive the officer
that interrogated us and detained us for no
reason.... but we have chosen to because we
understand that child trafficking IS real and to
some extent he had every reason in his power and
limited understanding to be suspicious of us only
because of the several trafficking cases that have
gone under the radar. I get it."

Christine goes on to express their gratitude two
Ghanaian officers she describes as amazing, and
whom she says asked for forgiveness for the way
their case was handled. According to her, the two
eventually shared their contact information with
the hope of visiting them in America one day.

Meanwhile Joy News has learnt the adopted children
have been returned to their Ghanaian guardians
even though the couple is going ahead with their
adoption.


Source - Joy News


---