General News
[ 2012-06-25 ]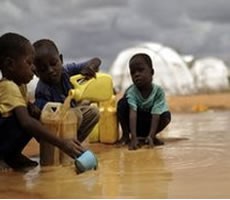 Archive: Children fetching water from a brownish stream
Water crisis hits Yoggu Electoral Area even in rainy season
The residents of Yoggu Electoral Area in the Tolon
Kumbungu District are facing severe water crisis
due to break-down of mechanised water system in
the area.

The people are paying dearly for what they
described as "lack of maintenance culture on the
part of the Assembly", resulting in the break-down
of a 219, 000 euro Water Plant in the area.

A recent visit to the area reveals the people are
facing severe water problem even in this rainy
season.

Access to safe drinking water is a luxury. For the
past three years, the residents have been
competing with cattle and other livestock for
water collected in dugouts in the area during
rainy seasons.

They fetch the brownish water from the dugout and
use it/ without any proper treatment.

They fear there could be an outbreak of
water-borne diseases in the area if nothing is
done immediately to remedy the situation.

The electoral area which comprises four farming
communities, namely Yoggu, Zagua, Palugun and
Woyomba, has a total population of 9000 people.

They tell Joy News they were hoping the rains
would come heavily to abate the situation but it
appears the frequency and volume of rains in the
area is far below expectation.

Prioritising access to safe drinking water as the
pressing need of the area, government in 2006,
sourced funding from French Development Agency, to
build the Yoggu Water System to provide potable
water to the people in the area.

Three years later, the transformer that powers the
water station broke down beyond repairs leaving
the people no option than to go back to the
unwholesome water sources.

The 200KVA transformer cost a little over GHC
10,000.

The Assemblyman of Yoggu Electoral Area,
Abdul-Raman Dobia told Joy News all efforts to get
the problem fixed have yielded no positive
results.

"We have personally and officially appealed to the
District Chief Executive and the Member of
Parliament as well as some NGOs operating in the
area to assist us with a new transformer but to no
avail," he said.

The roads in the area are also in a very
deplorable state. Some portions of the road are
not motorable during rainy seasons.

Efforts to get the Tolon Kumbungu District Chief
Executive, Alhaji Iddi Manza Mahama to tell Joy
News the Assembly's plan towards resolving these
development challenges proved futile.






Source - Joy News/Yoggu


---